I.D. Honing of Hydraulic Sleeves for a Heavy Equipment Application
At Midway Grinding Inc., we specialize in providing our customers with high precision, large volume products at competitive prices and with short lead times. The project highlighted here exemplifies these capabilities.
Most high volume applications pose challenges in one form or another; in this project maintaining the quality of the incoming blanks was a critical factor. This family of product is designed for use as a hydraulic sleeve in hydraulic cartridge valves for a heavy equipment application. Composed of 12L14 H.T., the sleeves required I.D. honing and single pass diamond bore finishing. They featured dimensions of .600" in diameter and 2" in length and needed to be produced in lots of 10,000 pieces bi-weekly.
The process begins on our Sunnen ML4000, which provides the roughing operation; this is followed by the finishing on our single pass bore sizing machine. These advanced capabilities allow us to maintain the extremely tight tolerances of .0001" overall, and .00005" for roundness. In-process testing and inspection is provided by our Federal Air Gaging, Talyrond 365 roundness tester, and Zeiss profilometer.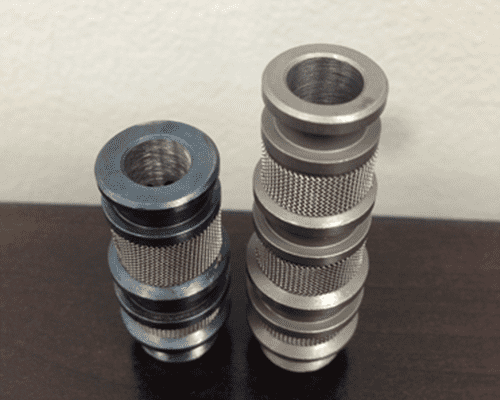 I.D. Honing Project Highlights